Health and Grow Objectives

Our health care project "Health and Grow" is part of the joint program "Small Homes, Big Dreams" with Dream India Network (DIN). This particular aspect of the program aims to settle a first medical check-up for the children entering the home and to strengthen their medical follow-up over the years. The overall objective is to integrate children in a healthy environment with health care and appropriate psychological support.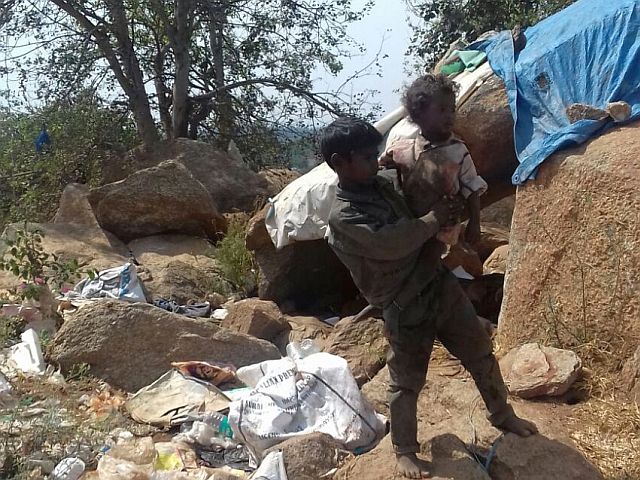 The project "Health and Grow" consists of two parts:
The first part concerns the first check-up of the child, as soon as he arrives in his foster home. Major issue is to detect and cure at the earliest possible the pathologies, and thus avoid any contagious or epidemic within the home. This first medical checkup is intended to be as complete as possible, to diagnose all the problems of child health: deficiencies in vitamins, disorder of sight or hearing, growth delay, presence of intestinal worms, skin disease, psychological disorders and traumas, and other pathologies.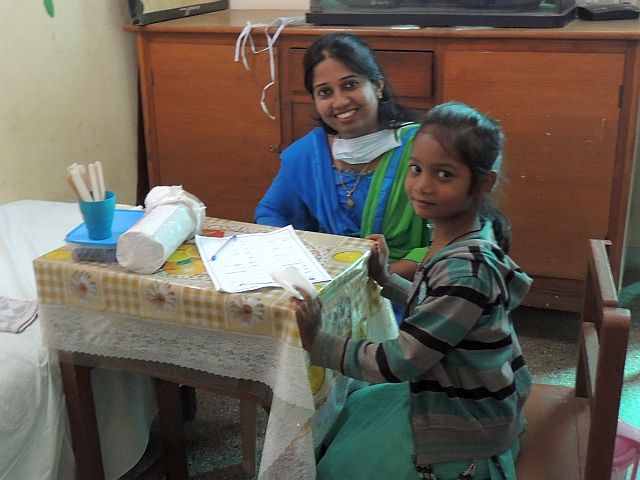 The second concerns the medical follow-up of the child, from his arrival in house to his independence. This includes full tracking of the vaccination scheme, annual medical visits, and emergency consultations when there is an accident or when the child is ill.
Medical follow-up involves many stakeholders and specialists according to the needs of the child: psychologist, dentist, dermatologist, ophthalmologist etc…
So, this health project, which is the more complete as possible in order to ensure effective health monitoring for children, requires financial participation of many others. Partnerships with local hospitals, and doctors allow to reduce costs and to involve local people.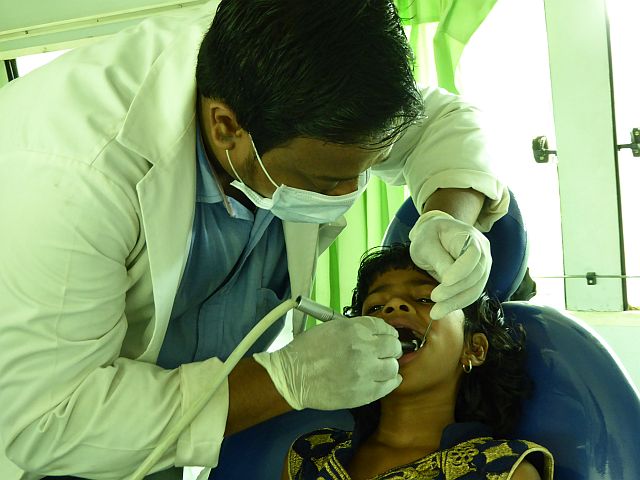 You too can participate in this noble project by donating a sum
The local community already helps us with 50% of the maintenance cost. Your contribution will certainly make a difference.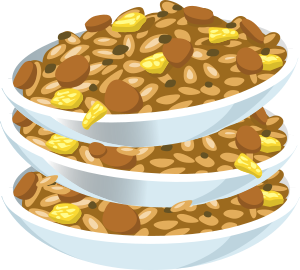 Rs.1700 per month
Will cover the food expenses of a child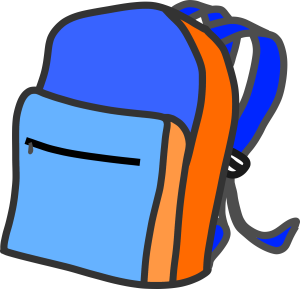 Rs.3250 per month
To support a child's food and education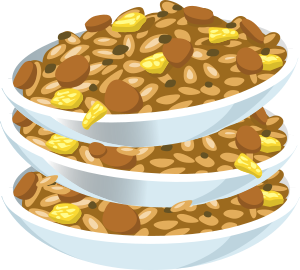 Rs.14000 per month
To cover the food expenses of 8 children.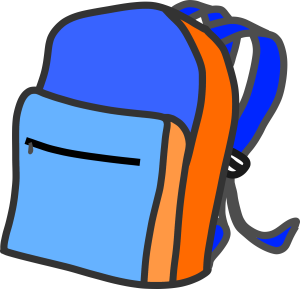 Rs.26000 per month
To support food and education for 8 children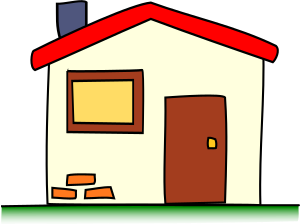 Rs.312000 per year
To support the food and education for 8 children
Specific objective and expected results
The Health care project aims at contributing to good health of each child and permits the rehabilitation and reintegration of the most disadvantaged and marginalized children living in Bangalore. The specific objective of the program is to support the medical follow up of children and help them to integrate an environment conducive to their physical and personal development. Every child receives good care and protection to reinforce his/her capabilities and build her/his self-esteem and confidence. On the long run, children break the poverty circle.
The following results are expected in order to reach the specific objective of the program:
Result 1. Children receive healthcare and psychological support.

100% of the children are vaccinated.

100% receive a yearly medical check-up.

100% of the children are given tasty and nutritious meals.


Children overcome their traumas and anxiety.
Result 2. Children live in a healthy and safe environment where they can develop all their skills and be actor of their health.
Children practice activities and sports games.

Children learn good practices in hygiene and health

Medical kits are provided to each foster home.

Children build self-confidence and self-esteem; a significant change can be
observed in children's attitude and perception within a few months.
Result 3. Children have an accurate medical follow up
Children are followed by the same doctor each year if it is possible

Each child has a health record adapted to his situation where we can find all
the reports of his consultations.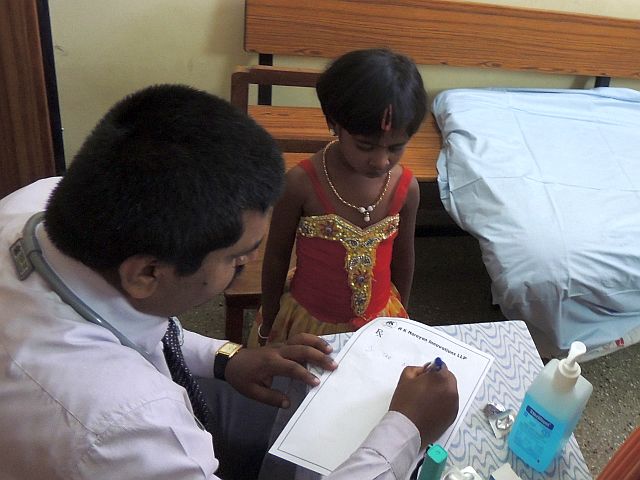 The Activities
Activities related to the expected result 1
Children are medically followed up by health professionals. They receive the
appropriate treatments adapted to their physical condition: medicines, vitamins and dietary supplements. The staff pay attention to children with health issues. Besides the medical aspect, children follow a balanced diet with nutritious meals.
Vaccination is also a main point of the project. It permits to prevent diseases by
developing immune system. Children receive a complete vaccination: Tuberculosis, Polio, DTP and DTP Booster, MMR, and Typhoid. Professional counselors are appointed to the Homes on a regular basis to provide psychological support and follow-up to the children. They organize collective sessions as well as individual interviews to help the children deal with their traumas and anxieties. They oversee reporting on the psychological assessment of all children.
Activities related to the expected result 2

The activities promote a culture of conviviality and interactivity to ensure a familiar atmosphere. Children are encouraged to show a sense of humor and appreciate their daily life through games and discussion. They can develop their talents and skills in sport and in art and they take pleasure to achieve their goal. Activities help also to develop the imagination and create dreams, which can be positive for the child. Health education is also important in the project and gives the possibility to the child to be actor in his health. Children learn hygiene and well-being's rules as for example: how to brush their teeth or have a good nutrition, why exercises are good for the health, how we can avoid contagion.
In addition, to have a concrete and very quick action on the health, each home has a medical kit which permits to answer to the children's minor daily emergencies.
Activities related to the expected result 3

Casa foundation has given to every child a health record which is adapted to their situation. Designed by CFI for the DIN's children, these health record gives the possibility to have a real medical and psychological follow up. All the medical
stakeholders can evaluate and measure the health evolution of the child. When it is possible, DIN tries to have a partnership with local doctors in the neighborhood to insure the follow up by the same person over the years. Thus, avoid the loss of medical data, give the possibility to have only one referent for the health of the child and establish a relationship between the child and the doctor. Children's personal histories are very hard and complicated so this is an advantage to reduce children's traumas.