Casa Foundation India (CFI) is committed to the development of underprivileged and believes in sustainability and holistic approach. The action of Casa Foundation is to assist local NGOs in the conceptualization, fundraising, planning and monitoring of their projects.
Women Empowerment through income generation activities
Promote water & soil conservation, health, education and bio-agriculture

Provide training and technical support to women and farmers

Provide education for vulnerable children
We help to provide quality education to marginalized
population. We have built schools & accommodation for children with special needs. We have also made safe homes for street kids

CFI helps women living below the poverty line to play a leading role in society  by supporting their social, personal and economic development. We facilitate the formation of Self Help Groups (SHG) for the creation of income generating economic activities through access to microcredit at preferential rates.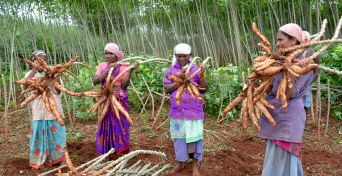 Our goal is to prevent economic migration to large cities by boosting the local economy and improving living conditions. We participate in the preservation of rain water in large village tanks, in promoting bio‐agricultural and efficient use of available natural resources. 
(in million INR). Funds raised by CFI with OFI & associate partners